Christmas at Kew Gardens 2023 | Timings, Facilities, Parking & More
Contents
Why Celebrate Christmas at Kew Gardens? Enjoy a stroll through the beautiful lit Royal Botanical Garden at Kew.
Walk under the Tunnels of Light while being guided by the twinkling lights on the trail.
Watch the flames flicker in the Fire Garden and enjoy the light and sound display in front of the Palm House.
Taste delicious Christmas treats, hot food, and winter drinks. 
Marvel at the beautiful lights, huge illuminations of the seed heads, and the trees bathed in jewel-like colors.
Greet Father Christmas on the way and enjoy a merry Christmas as the entire garden is filled with seasonal music.
Top Things to do on Christmas at Kew Gardens
One Small Thing
Discover Kew's One Small Thing initiative, inspired by the natural world. Illuminated illustrations and messages are set up to encourage visitors to make small changes for environmental protection, aligning with Kew's mission to safeguard plants and fungi for future generations as well as creating a more sustainable light trail.
The Hive
Don't miss out on the Hive, a 17-meter contemporary art installation that is connected to an actual colony of bees in Kew. Created by Wolfgang Buttress, over 1000 LED lights are triggered by a soundscape, creating a mesmerizing visual and auditory experience, connecting art and nature.
Lili by TILT
Keep an eye out for Lili, a series of 3-meter-tall illuminated flowers making their UK debut. Created by TILT, these abstract, towering flowers provide a wonderful visual treat, adding an artistic touch to the festive ambiance.
Light Installations Along Camellia Walk
Take a stroll along Camellia Walk beneath more than 400 colorful cascading lights. ArtAV presents Trapezoid, one of the longest light tunnels to feature at Kew Gardens, set against neon backdrops suspended from the tree canopy, creating an magical experience for you.
Pitaya's Spark Ballet and Candles
Pitaya's Spark Ballet features 24 lanterns with subtly sparkling lights, creating an illusion of them dancing in the air. You can also see floating candles illuminating the tree-lined passageways, giving the festive atmosphere a magical Harry Potter-like touch.
Christmas Cathedral and Fire Garden
Visit Kew's Christmas Cathedral, a twinkling tunnel inspired by church windows. Explore the Fire Garden, with over 300 candles lighting up the path to the Temperate House, the oldest Victorian glasshouse in the world, creating the illusion of a glowing glass cathedral.
Palm House
Watch the breathtaking light displays dancing across the Palm House. LED lights seemingly 'float' on the lake's surface, accompanied by a playlist of cherished Christmas classics, adding a touch of nostalgia to a brand new festive experience.
Dining Options
Make your Christmas at Kew memorable with a traditional dinner at The Botanical Brasserie. Indulge in seasonal treats like celeriac and truffle soup, mushroom wellington, or turkey ballotine. You can also find independent street food vendors that s serve up loaded hash browns, spiced cider, waffles, and hot chocolate along the light trail.
Plan Your Christmas at Kew
Timings
Access
Food & Drinks
Essentials & Attire
Facilities
Safety & Security
Parking Facilities Christmas at Kew runs between November 16, 2022, and January 8, 2023. It is open on the following dates:
Wednesday 16 November – Sunday 20 November 2022
Wednesday 23 November – Sunday 27 November 2022
Tuesday 29 November – Sunday 4 December 2022
Tuesday 6 December – Sunday 11 December 2022
Tuesday 13 December – Saturday 24 December 2022
Monday 26 December 2022 – Sunday 8 January 2023
Entry Timings: 4.20 PM – 10 PM (Last entry at 8 PM)
Last Entry: December 24 - 7 PM.
Entrance Gates: Via Victoria Gate, Elizabeth Gate and Brentford Gate, depending on your ticket. The trail is 2.6 km long, visible from the pathway, and can take around 75 minutes to cover.
Christmas at Kew attempts to make the trail fully accessible but there are a few difficult terrains with gradients that can be difficult during wet weather.
Visitors can bring their wheelchairs, mobility scooters, and buggies.
There are wheelchairs available for borrowing as well, on a first-come-first-served basis.
Registered disability assistance dogs are allowed in the Kew Gardens. The trail during Christmas at Kew Gardens does not have any cover and is often wet, so remember to wear warm clothes and comfortable footwear.
Carry a flashlight because many areas of the trail may have low lighting and could be slightly difficult to navigate.
Refrain from carrying naked flames like candles or lanterns.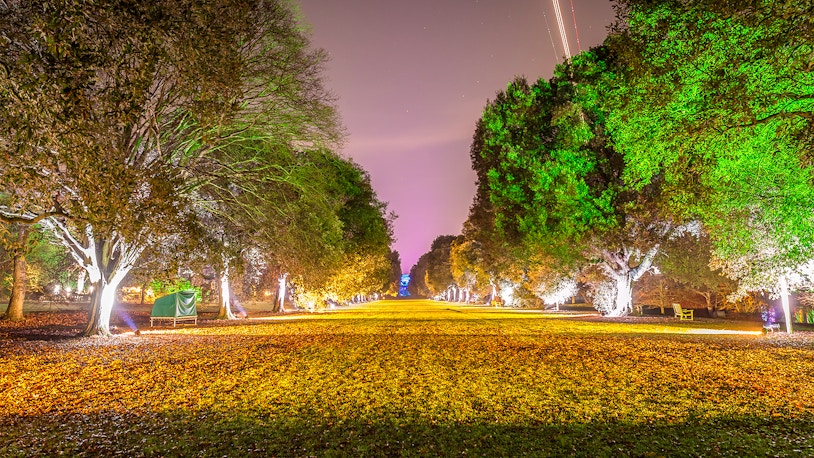 Photography – Guests can take photographs of the trail but should be careful of other visitors. 
Toilets – Visitors can access toilets at Brentford Gate, Victoria Plaza, and Pavilion Bar.
Fairground – Enjoy family rides at the fairground during Christmas at Kew.
Parking – Parking is strictly prohibited along Kew Road. Parking at Kew's Ferry Lane car park (TW9 3AF) and at the National Archives parking facility (TW9 4DU) is for advance booking only. For the safety of everyone present at Christmas at Kew, full security checks will be carried out at the entrance gates.
Visitors are requested to let the nearest staff member know of any observed suspicious activity or behavior.
Do not leave your belongings unattended.
Be mindful of your children and do not let them wander into the poorly lit areas of the Gardens.
Brentford Gate Car Park
Visitors need to buy reserved parking tickets for £10 to park at Kew's Ferry Lane car park, TW9 3AF.
Entry to the Christmas at Kew is via Brentford Gate which is situated next to the car park.
Daytime parking tickets are valid till 3 PM. After that, you need another parking ticket for the evening.
Car park will close at 10 PM.
National Archives Car Park
You can use the car park spaces available at the National Archives parking facility from 3:30 PM.
This car parking facility can be reached on foot from Victoria Gate and Lion Gate in 11 and 25 minutes, respectively.
Disabled Access Parking
Visitors with a disability can park in Kew's car park, TW9 3AF, for free.
Buy the reserved parking ticket and select the disabled access parking option. 
Display the Blue badge when accessing the disabled access parking.
Book Your Kew Gardens Tickets
Frequenty Asked Questions About Christmas at Kew Gardens
What is Christmas like at Kew Gardens?
Christmas at Kew Gardens is an annual event where you can stroll through the Gardens after dark on new routes, enjoy some delicious food and drinks, and take photographs of the festive decorations at Kew.
How can I access Christmas at Kew Gardens ?
Christmas at Kew Gardens can be accessed via a 2.6 km long trail that can be viewed from the pathway. There will be interactive elements added to this route and it will take 75 minutes for the visitors to cover it.
Is Christmas at Kew Gardens disabled-friendly? If yes, what are the different facilities offered?
Yes, disabled guests can bring their wheelchairs, mobility scooters, or buggies to access the trail. You can even borrow wheelchairs at Kew and can bring registered disability assistance dogs with you to Christmas at Kew.
Are there any parking access available during Christmas at Kew Gardens?
Brentford Gate Car Park and National Archives Car Park are accessible to guests during Christmas at Kew Gardens.
Can I take photographs of Christmas at Kew Gardens?
Visitors can take photographs during Christmas at Kew Gardens.
What should I wear before visiting the Christmas at Kew Gardens?
Since the trail is uncovered and can be wet at many places, it is recommended that visitors wear warm and comfortable clothing and footwear.
Should I carry anything with me before arriving for Christmas at Kew Gardens?
Kew gardens winter lights are low so visitors can carry a torch with them to light up the path. Naked flames such as lanterns, flares, candles, etc. are not allowed in the gardens.
Are there toilet facilities during Christmas at Kew Gardens?
Visitors can use the toilets at the Pavilion Bar and Grill, Victoria Plaza, and Brentford Gate during Christmas at Kew.
Do you offer any refreshments during Christmas at Kew Gardens?
Guests can enjoy takeaway food from Victoria Plaza Cafe or Pavilion Bar and Grill. There are several street food vendors available on the trail as well that serve delicious street food.